---
2015.05.02 01:08:26 (*.70.29.157)
1678
Posted on : May.1,2015 16:44 KSTModified on : May.1,2015 16:44 KST
There's a group of Japanese experts in Washington who control US policy toward Japan. They are known as "Japan handlers," since they offer advice about Japan policy. Their breadth and reach go much wider and much deeper than experts on the Korean peninsula. Some of these figures deal with both Japan and Korea policy, which means that their perspectives also have a major effect on the Korean peninsula.
Recently, I had a chance to speak on the phone with Michael Green, senior vice president and Japan chair at the Center for Strategic and International Studies (CSIS). Along with former Deputy Secretary of State Richard Armitage, Green is one of the preeminent Japan handlers.
Green shared his opinions with great candor, and I was stunned to learn how great the rift between us was on some points.
Green contended that the Japanese government has been working in its own way to resolve historical disagreements with South Korea. Observing that last month Japanese Prime Minister Shinzo Abe said that the comfort women had been "victimized by human trafficking" and that his "heart aches," Green regarded this as a positive attitude.
According to international conventions and US federal law, Green explained, human trafficking is a concept that can include the involvement of government bodies. South Korean media, on the other hand, seems unwilling to look at the issue positively, he said. In his words, "Korea keeps moving the goal posts."
The comment about "goal posts" refers to the idea that, even though the Japanese government has apologized several times, South Korea keeps moving the goal posts instead of accepting those apologies.
When I countered that South Koreans and Japanese understand "human trafficking" to mean a crime by non-state actors and that Abe's choice of that word had the ulterior motivation of denying the involvement of the Japanese imperial army, Green said, "That [gap] is the reality."
"Another reality," he continued, "is that Shinzo Abe will remain in his position for at least two or three more years."
Green said that, to Americans, it looks strange when President Park Geun-hye proposes holding a summit with North Korea despite its abysmal human rights records while refusing to do the same with Japan, which is a democratic country. He also argued that South Korea should exercise caution, since China is trying to use historical issues to isolate the US and Japan in Asia.
Put simply, Green says that South Korea should stop arguing with Japan about historical issues and find a compromise.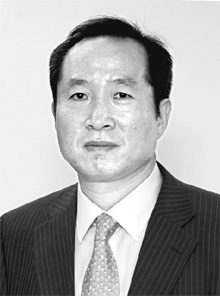 박현 워싱턴 특파원
The reason I am sharing what Green said at such length is to make the point that this perspective is widespread among the group of Japan experts in Washington. Since the South Korean media often focuses on criticism of Japan by certain American legislators and newspapers, one could assume that anti-Japanese sentiment is pervasive in Washington, but this would be missing the point.
The bigger problem is that this attitude is gradually spreading from think tanks to the government. Disturbingly, a number of officials in the White House and the US State Department this year have concluded that Prime Minister Abe's remarks reveal a positive and constructive attitude.
My personal view is that the attitude in Washington toward the historical disagreement between South Korea and Japan has shifted several times over the past few years. As recently as the middle of 2013, the Japanese argument that South Korea is not accepting its apologies seemed to be gaining ground, but when Abe suddenly visited Yasukuni Shrine at the end of that year, American sentiment abruptly moved toward South Korea. But now, with Abe refraining from visiting the shrine and lobbying the US by employing clever expressions such as "human trafficking," the scales seem to be tilting in favor of Japan once again.
I'm not ignorant of the hard work by South Korean diplomats who are laboring on the front lines of US diplomacy. But it is also clear that the results so far are not living up to expectations.
I'm not suggesting that South Korea curry favor with the US by giving in to its various demands as Japan has done. When it comes to historical issues it is necessary to communicate right and wrong with even more clarity.
The US must not look the other way as Japan skillfully attempts to avoid the truth of history. It must bear in mind that its actions could provoke anti-American sentiment in South Korea.
By Park Hyun, Washington correspondent
Please direct questions or comments to [english@hani.co.kr]